Markesan Website Design
Are you looking for a local, Markesan, Wisconsin website designer?
Look no further! My name is Jesse Kremer and I have been the proud owner of Cornerstone Websites since 2007. Following my return from Operation Iraqi Freedom, I began this company after I self-taught myself web design for my wife's aerial photography company and my family's printing company - Kremer Publications, Inc. During the past six years, I have had the opportunity to design websites throughout Southeastern Wisconsin, Northern Wisconsin, and Eastern Minnesota.
When you are looking for a Markesan website design, make certain that you know exactly what you are paying for. With Cornerstone, we sign a contract that will guaranty you deadlines and include a list of all your Markesan website design requirements. Satisfaction is always guaranteed and we do not expect any payment for deadlines not met or a product that does not meet all of your specifications.
Our Markesan website design products include:
| | |
| --- | --- |
| | Fully Funcional E-commerce Designs (Starting at $855 $749) |
| | Small Business Websites (5 pages starting at $499 $349) |
| | Wordpress Website Design |
| | Pay Pal or Authorize.net Integration |
| | Joomla Content Management Systems |
| | Search Engine Optimization (SEO) |
| | Pay Per Click Advertising with Google & Bing |
| | Product Feeds for Google Shopping, Nextag, etc. |
| | E-Book Formatting for Amazon Kindle Publishing |
Current Markesan Website Design Customers
The following customer is an example of a Markesan, Wisconsin website design. Click on the image to visit their website!
For additional website ideas, you can view my web design portfolio here >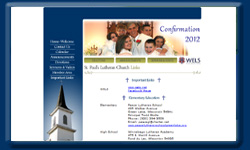 Name: St. Paul's Ev. Lutheran Church, Manchester-Marquette
Category: Church Markesan Website Design
Type of website: Static HTML & Dynamic Blogging Software
Highlights: Blog for posting sermon videos, devotions, announcements, and event updates. There is also a seasonal flash video embedded into the template design. The member's only area of the website includes newsletters, financial reports, and member directories. There is a Google calendar embedded in to the website.